4 Favorites 4 Friday: Emily Herrick
Today's 4 Favorites 4 Friday post features Emily Herrick, fabric designer of
Crazy Old Ladies
fame.  You can read more about her on our
teacher's page
.
What is a favorite sewing tip?
This is going to sounds silly, but when I first started sewing I just jumped right in. It was several months (maybe even a year!?) before I learned the technique of pressing seams in alternating directions so that the seams "nest", a corners match up when sewing rows together. Wow!  What a difference.
What is a favorite project made by you?
Right now I LOVE my
'I can SEW a rainbow quilt'
. It's clean and bright- perfect for summer! I love it so much I'm working on a part 2. LOVE IT!
What is a favorite project made by someone else?

Any quilts by
Kellie Wulfsohn.
 She is AMAZING!  I have seen her
'Animal Alphabet'
 quilt (click on link for pattern) in person and I just stand and stare in awe. Her eye for color, her artistic talent, and her wonderful technique. All of it makes for some very impressive quilts.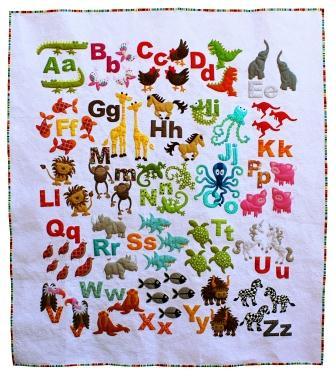 Wild Card: What's your advice for someone who is just starting out sewing & blogging?
If you're always trying to be someone else in your quilting, blogging, etc., you'll never feel quite good enough. Just be true to YOU. When you're sewing what you like, in a style that speaks to you, you will be so much happier with the result. There are so many different styles and ideas in this world and there's room for everyone. So dive right in and HAVE FUN!
All photos used with permission.